Century Sunshine entered the solar energy industry in 2005, headquartered in Shenzhen, a high-tech enterprise base in China, is a research and development, production and sales of new energy high-tech companies.
Century Sunshine attaches great importance to the research and development of LED solar street lamp technology. At present, it has 280 patents of appearance and utility model, which makes the product differentiation more obvious and creates more competitive advantages for cooperating agents and distributors.
In August 2013, the company independently developed integrated solar street lamp high-power breakthrough 150W, solar power 5W ~ 150W all power bands are complete, opened up the international integration of solar street lamp high-power pioneer, become the current global integration of solar street lamp industry the most powerful producer. Group production infrastructure has a modern production workshop, aging test workshop, monthly output of more than 10,000 sets, stable and efficient production, to meet various requirements of customers; the company has passed the ISO:9001 quality management system certification; products have passed CE, RoHS, IES and TUVIP66 certification, in line with Europe, the United States, Japan, South Korea and so on. The state's export requirements.
In April 2015, Sunshine Group became the first militarized private enterprise in the world. It adopted a militarized management system and introduced military management elements in workshop environment, quality control, quality of production personnel, equipment and equipment, management system and other aspects. It successfully created a military grade solar street lamp. Its products have been exported to the United States. Germany, Russia, France, Spain, Australia, New Zealand, Mexico, Dubai, Jamaica, Chile, Thailand, the Philippines, Singapore, Malaysia, Indonesia and other countries and regions, more than 60 countries and regions, perennial business contacts more than 200 customers, nearly 20 regional agents at home and abroad, under the "if day" And "Tuo Yang" and other brands have high reputation and popularity in many parts of the world.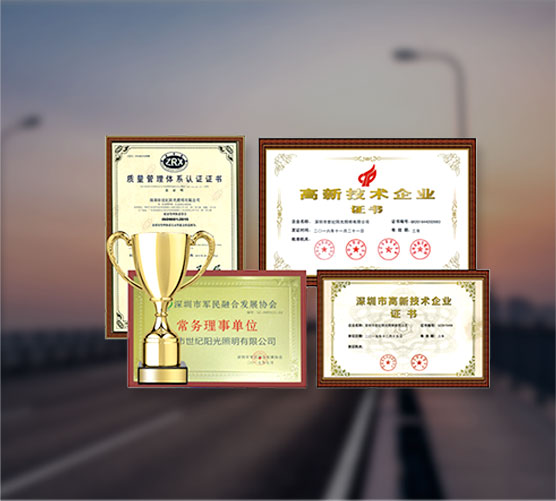 In 2015, our company was awarded the title of "Shenzhen High-tech Enterprise" by Shenzhen. In 2016, our company was awarded the title of "National High-tech Enterprise" by the state.
In May, 2016, our company increased investment in equipment, purchased high and low temperature test, salt spray test, rain test, battery cycle test, simulation transportation test, integrating ball and other advanced equipment, for the quality of the product factory to add a line of defense.
In March 2018, our company became the "Shenzhen Civil-Military Integration and Development Association Executive Chairman Unit", the chairman of our company Mr. Zhu Anhui was elected "Shenzhen Civil-Military Integration and Development Association Executive Chairman".
Century sunshine has been committed to research and development of products:
2011 -2014 century sunshine independent research and development of CSS products sell well both at home and abroad.
In 2015, UFO, sunflower and other independent R & D products were also well received by customers both at home and abroad.
2016 launched Kong Kong KK series
NC series launched in 2017
2018 launch the diamond series and so on.
We have been moving forward. We have been on the road of solar street lighting.